You asked, we built it!

Microsoft Ads just got more wicked
Microsoft ads just got more Wicked with a 1 minute integration process that delivers accurate cost, ROI, and attribution down to the ad and keyword level for all Microsoft ads.

Watch my demo from an ecommerce brand using Microsoft Ads - Wicked Reports shows attributed ROI of 365% on just one keyword campaign...and there's a lot more to see! Hit Play 👇
first party data, now for microsoft ADS Platform
If your product works for an older demographic, the Microsoft ads work on the browser because it is the default search engine. Your would-be customers that don't normally go and set up Chrome or Firefox or customize their browser of choice are this audience - it is a huge section of untapped potential and advertisers there are receiving great Microsoft ad results. Don't run Microsoft ads without accurate attribution.



Successful, advanced e-commerce marketers are finding great ROI and Customer LTV with good CAC on the Microsoft ads platform. According to Microsoft Ads, their ads reach 118 million unique desktop searchers, including 47 million searchers not reached on Google! Microsoft recently revealed they have 37.5% share of the US Desktop search market.
That's why I'm so glad we can offer this integration, which provides ad level keyword level costs tied to real leads and real sales and customer LTV tracking at the order level from your Shopify or woo commerce cart back to the ad spend. We do this by using Wicked Reports' long attribution time windows in segmenting by top, middle and bottom of the funnel
Get critical data insights into Microsoft ads performance and compare to your paid marketing efforts on all the other channels, like Facebook and Google, SnapChat, etc.

Deep cost integration gives you first-party data conversions that are verifiable, trustworthy, and accurate based on revenue and costs in real conversions - no double counting.

Ads managers inside the platforms have one job to do: get you to spend more money on their advertising - they don't have your back to make sure you're not wasting money on stuff that isn't performing well. Not to mention, ad platforms can't show you full marketing funnel activity on your customers.


Wicked Reports gives you:
- Robust ROI reports - Full Impact, First Click, Last Click, and Linear Attribution modeling!
- Customer journey insights
- Customer LTV and Cohort reporting
- Deep integrations with transparent data results
- Easy integration setup
- Guided onboarding
- Fanatical customer support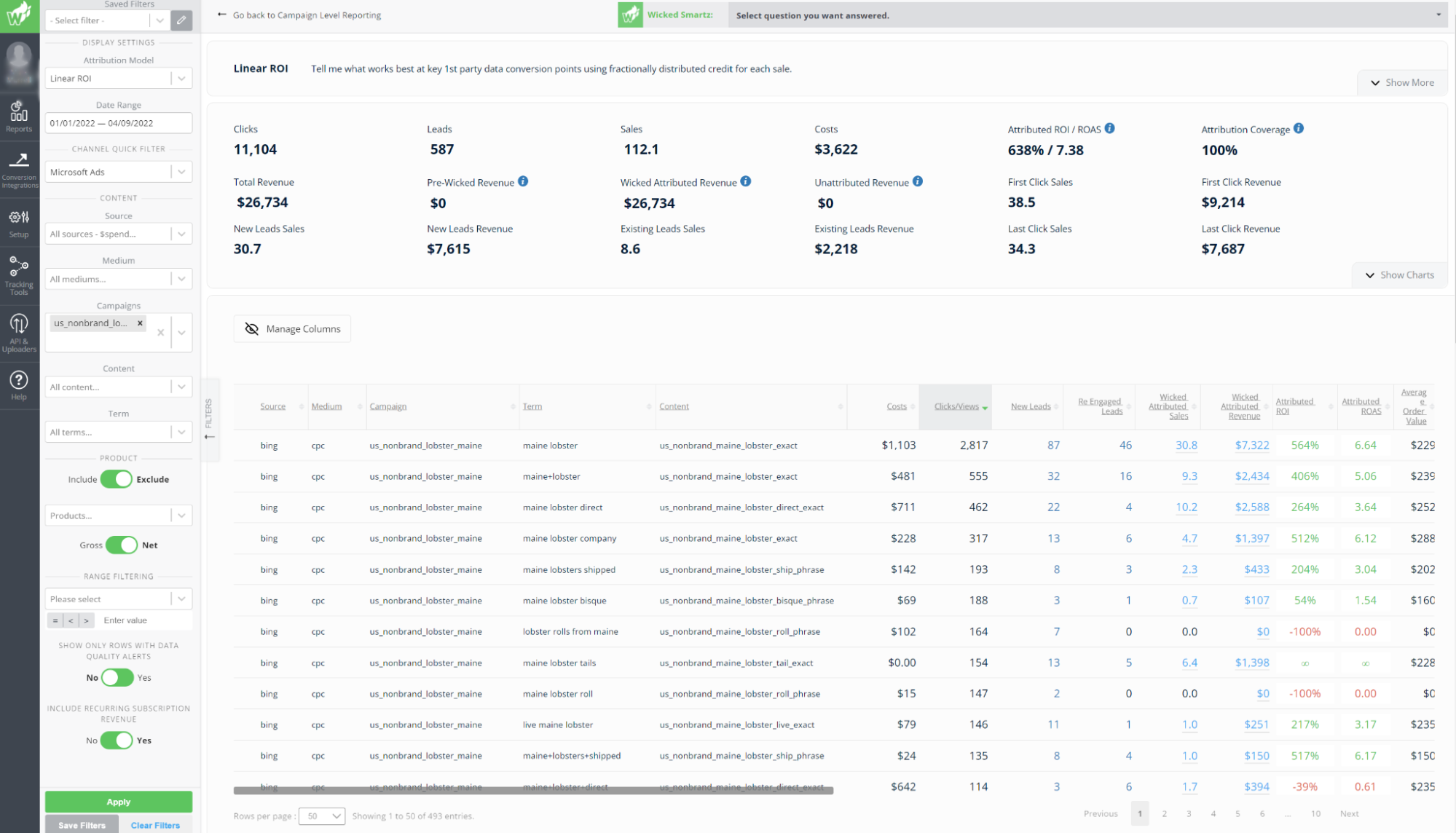 Important Update for current Wicked Reports Users
If current Wicked Reports users are running Microsoft Ads, they should use this integration so they can stop having to manually add Microsoft Ad costs to Wicked Reports.

They will easily be able to get their costs, leads, sales, ROI and ROAS for their Microsoft Ads marketing efforts and make better decisions for how to scale their ads.



For More, read the help doc:
https://help.wickedreports.com/how-to-integrate-microsoft-ads-and-wicked-reports
Ready to get your Critical Data Insights?
You can buy Wicked Reports today with introductory pricing and no contract!