Try a Free Walkthrough to See What We're About
What is THE WICKED DIFFERENCE?
✔ Wicked Reports offers advanced marketing attribution and solves similar attribution issues as Hyros, but each platform uses very different tools.

So what does your eCom brand need?

Wicked Reports can help solve specific pain points related to your marketing attribution challenges.
✗ Hyros offers limited tools for TOF and MOF tracking (compared to Wicked Reports' FunnelVision) and lacks muscle in their multi-touch attribution modeling.
Hyros lacks a patented approach to marketing attribution, features for subscription brands, and lacks clarity on the customer journey.


Customer Journey Tracking
Marketers buy media by targeting cold/TOF traffic, retargeting warmer MOF traffic, or direct sales response BOF traffic.

You need marketing attribution that buckets the performance of your marketing in this same Top/Middle/Bottom

targeting approach to correctly measure your results.



Wicked Reports attributes your data into easy to understand metrics for each funnel stage.

✗ Hyros merely gives first click, last click, or has a limited scientific model based on first and last click. Hyros' first click lookback window is limited to 30 days. This is very surprising. There are many, many sales conversions that take longer to close.

Hyros does not have any concept of MOF reporting.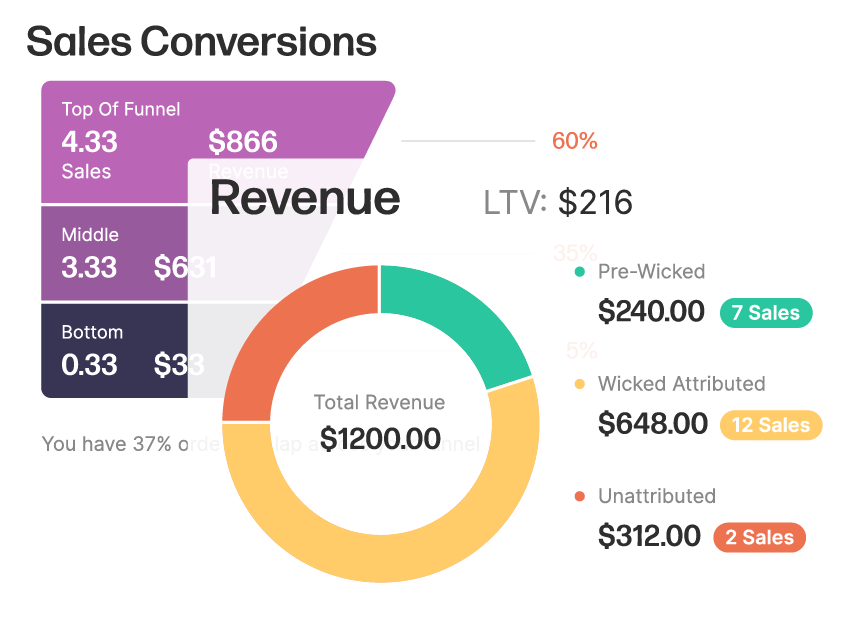 CRM INTEGRATIONS FOR PPC ATTRIBUTION
This is important because Media buyers nearly alway segment their paid campaigns based on cold or warm traffic.
Weaker attribution platforms offer first click, last click, or multi-touch models. All of these models downplay the impact of Top and Middle of the funnel paid ads.
CRM integrations have to be used by attribution platforms to ensure that traffic is correctly segmented as Cold or Warm. Otherwise, you get misled to thinking your bottom of funnel campaigns are the only ones earning high ROAS
✗

Hyros has no CRM integration for the purposes of auto-segmentation and attribution of traffic. Hyros has no concept of TOF vs MOF vs BOF segmentation. Hyros' multi-touch models share credit equally for blended ROAS.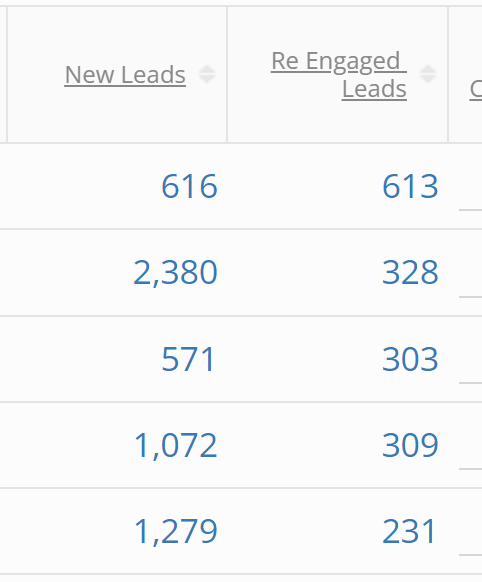 Customer Journey Conversion Path Reporting
Get a visual representation of the common paths people take to convert.

Wicked Reports has a stunning, easy to read visual journey to show you how conversions and channels overlap.
✗

Hyros only allows manual tagging of user journeys.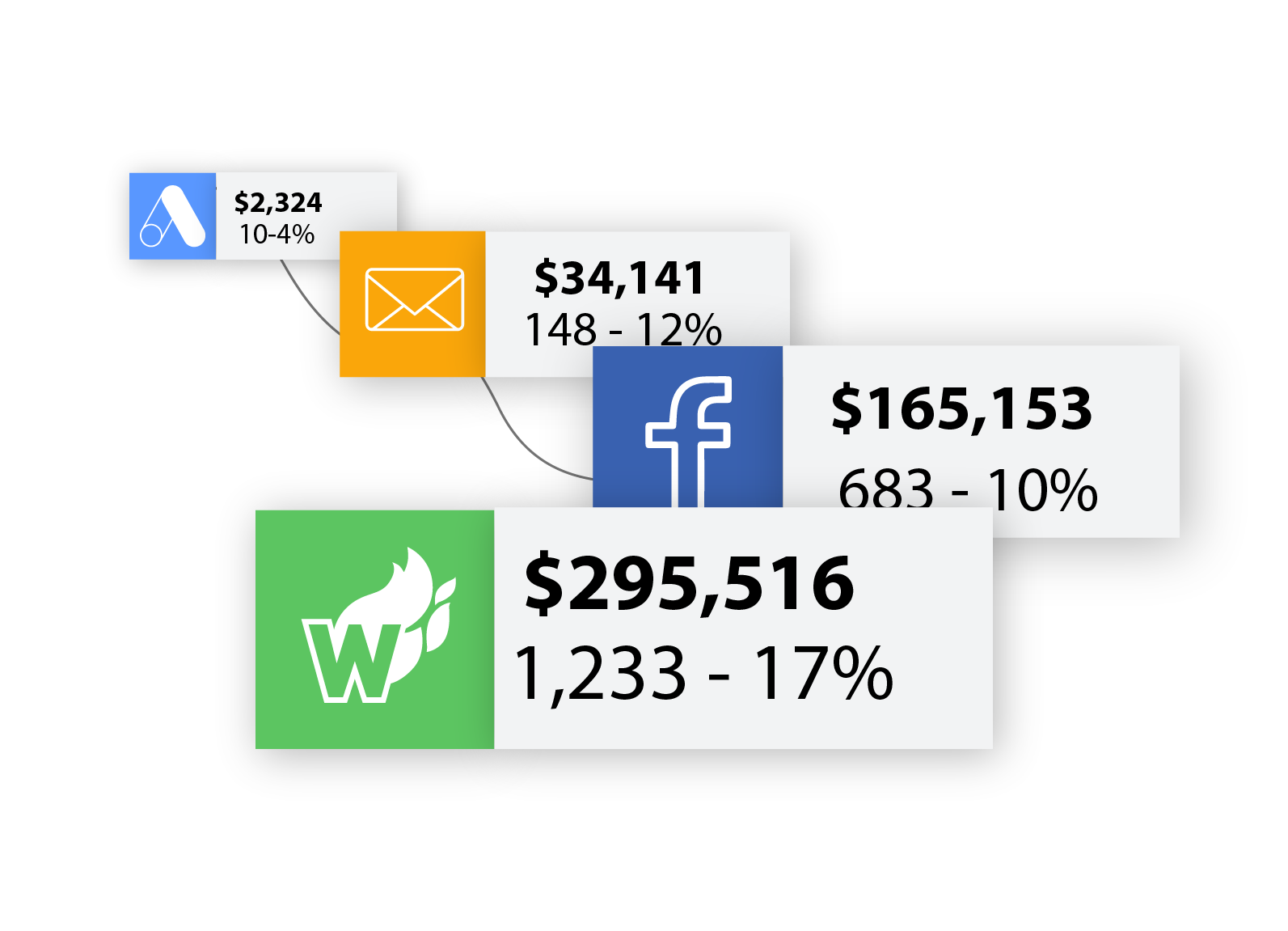 Top of the funnel attribution
60% of budgets on average are allocated to the TOF.

Facebook & Google's TOF conversion tracking is very, very weak - so a marketing attribution platform needs to nail this. Wicked Reports auto-segments traffic with click tracking and deep CRM integrations so true TOF clicks are attributed. TOF is not limited to the very first click.
✗

Hyros offers first click attribution only.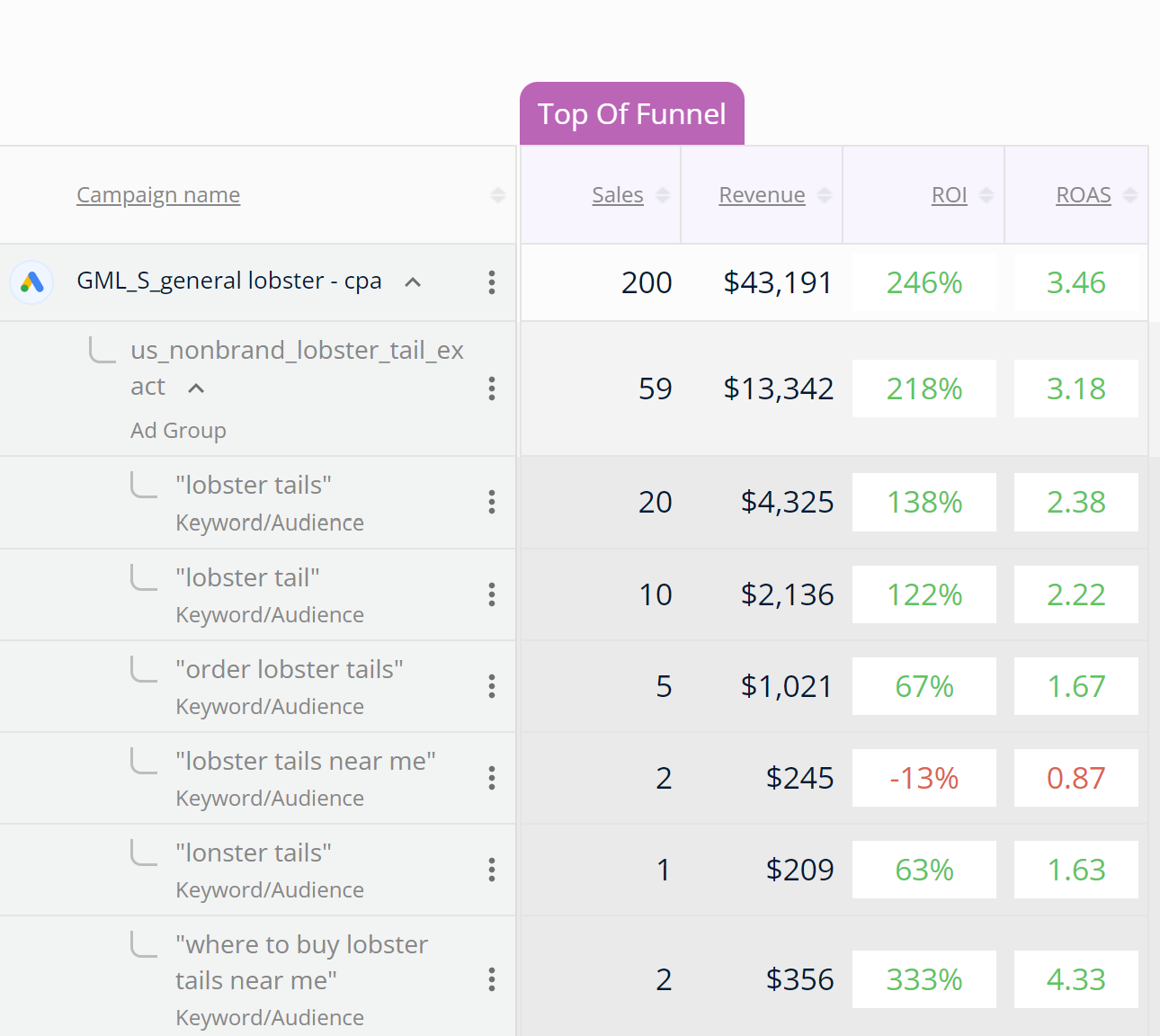 Middle Funnel Attribution
Over 50% of last click conversions happen on Branded Search, Email/SMS, and Organic.

Those conversions ONLY happen because of marketing elsewhere - likely PPC!

Marketers need an easy, transparent way to see the paid media driving the branded owned media conversions so they can scale the marketing that is driving those last clicks.
✗

Hyros has no concept of Middle Funnel as an attribution model. Their linear model shares credit equally with all clicks, so that model does include MOF clicks as part of its overall revenue value. No segmentation or insight there!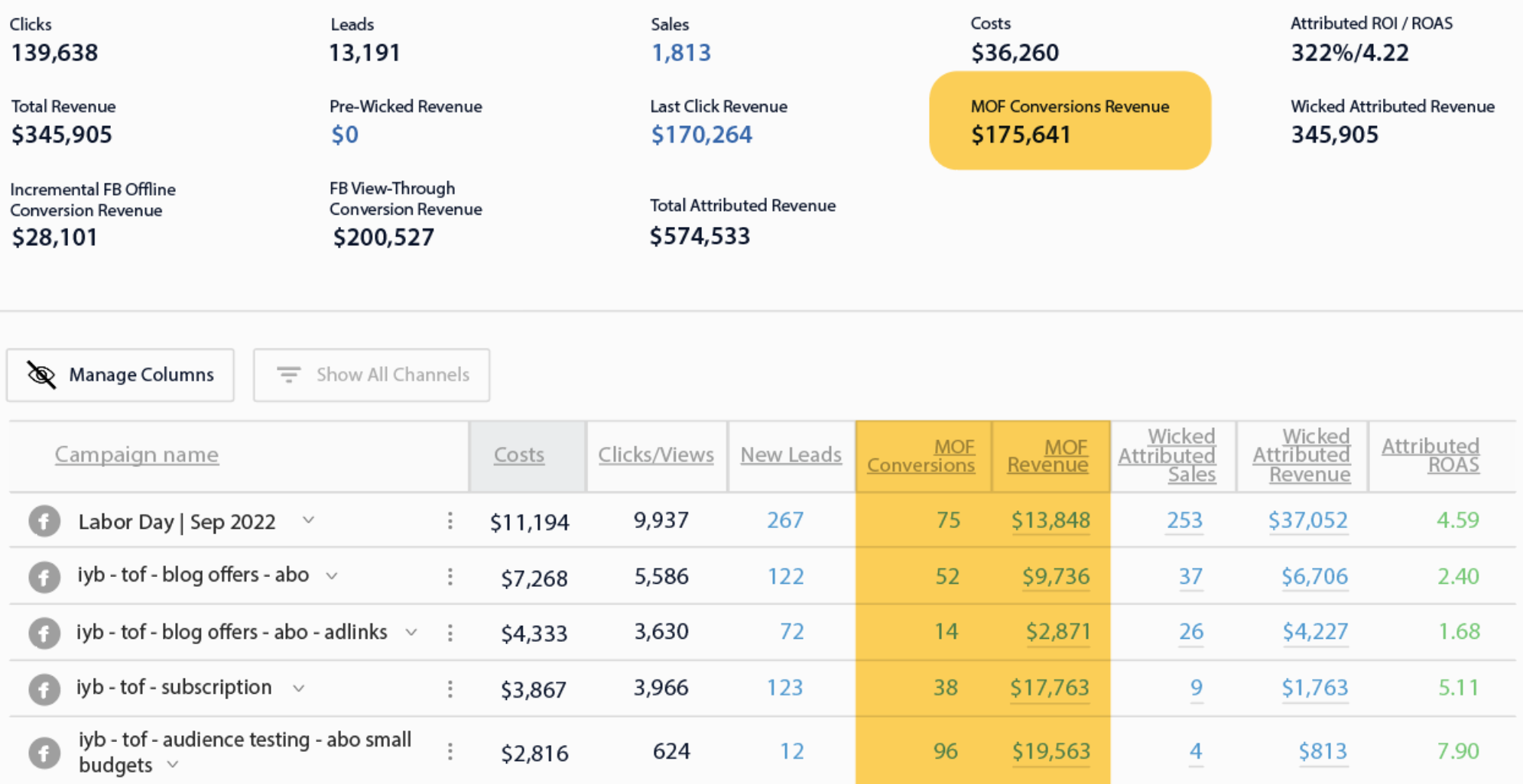 Subscription Recurring Revenue Attribution
Your customers that continue to pay you are the most valuable. Those recurring sales do not hit a pixel. They simply must be accounted for if you are going to make the best ad buying decisions.
ReCharge recurring revenue attributed back to TOF, MOF, and BOF campaigns that drove the initial conversion.
Get a clear breakdown of one-time vs subscription revenue at channel, campaign, and ad level.
✗

Hyros has no concept of subscription tracking or attribution. You can manually tag orders as subscriptions.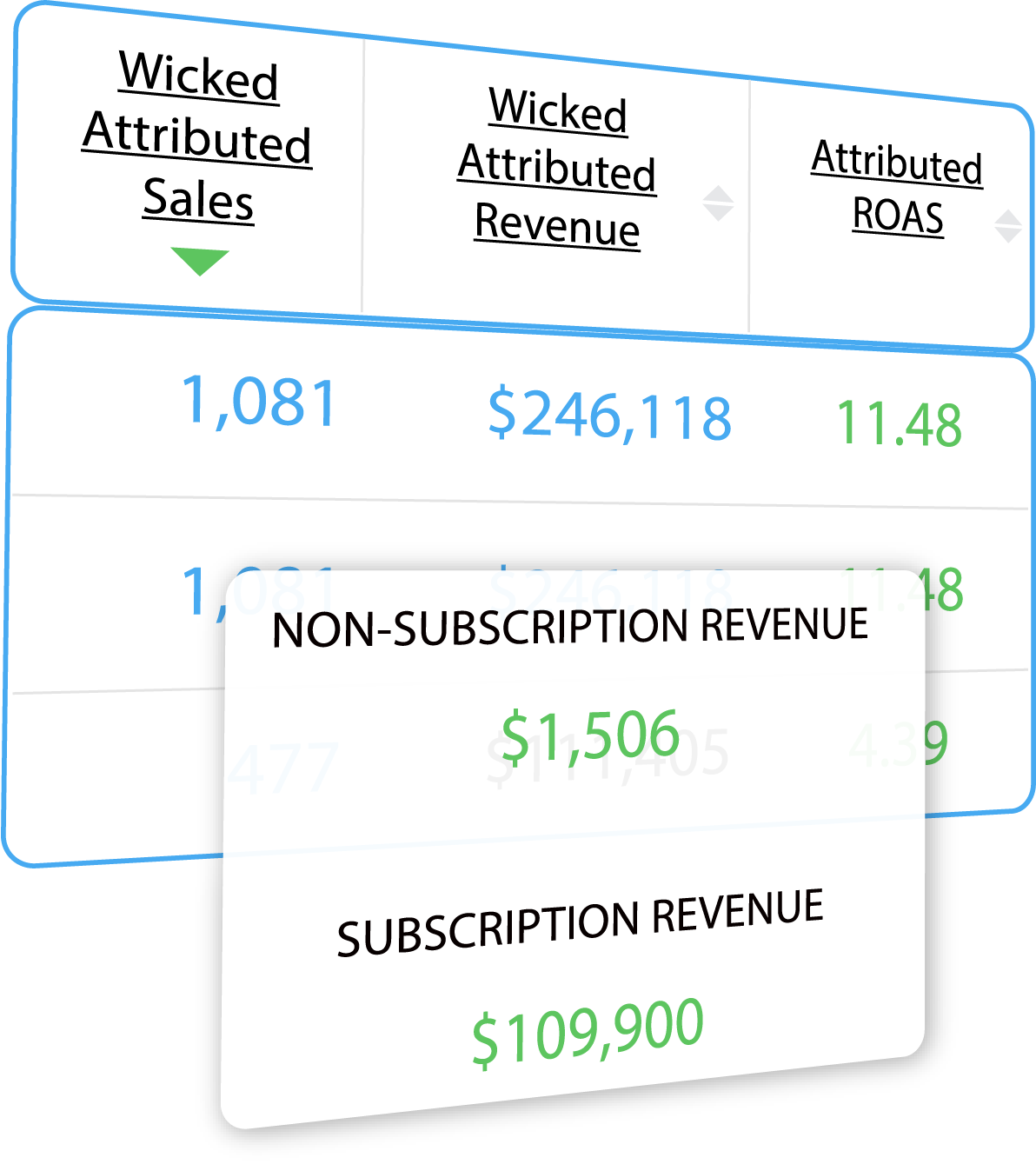 Delayed Conversion Time
Many sales conversions take time to occur post click. The ability of the marketing attribution platform to attribute this back in time, and educate the user on the impact, can help brands drive a lot more top and middle of the funnel ROAS.

Wicked Reports offers a specific report on delayed conversion time and it is a primary focus of the Scale/Kill/Chill framework for data decisions.


✗

Hyros offers no delayed conversion reporting time.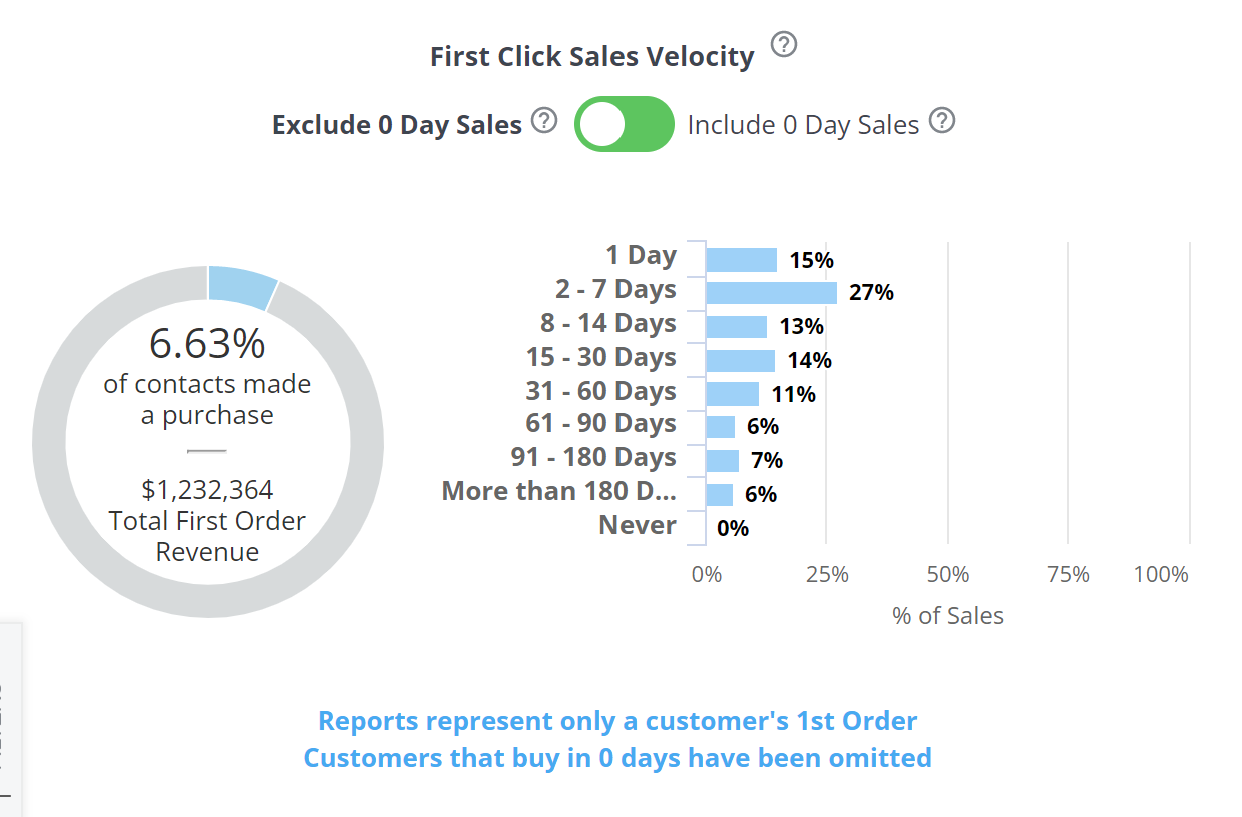 Customer LTV
It is critical that attribution time windows allow for customer lifetime value to be continuously attributed back to ad spend for accurate ROAS.

Transparent TOF (industry's only) and customer cohort reports for precise future Customer LTV impact



✗

Hyros first click has limited customer LTV lookback in a 30 day window.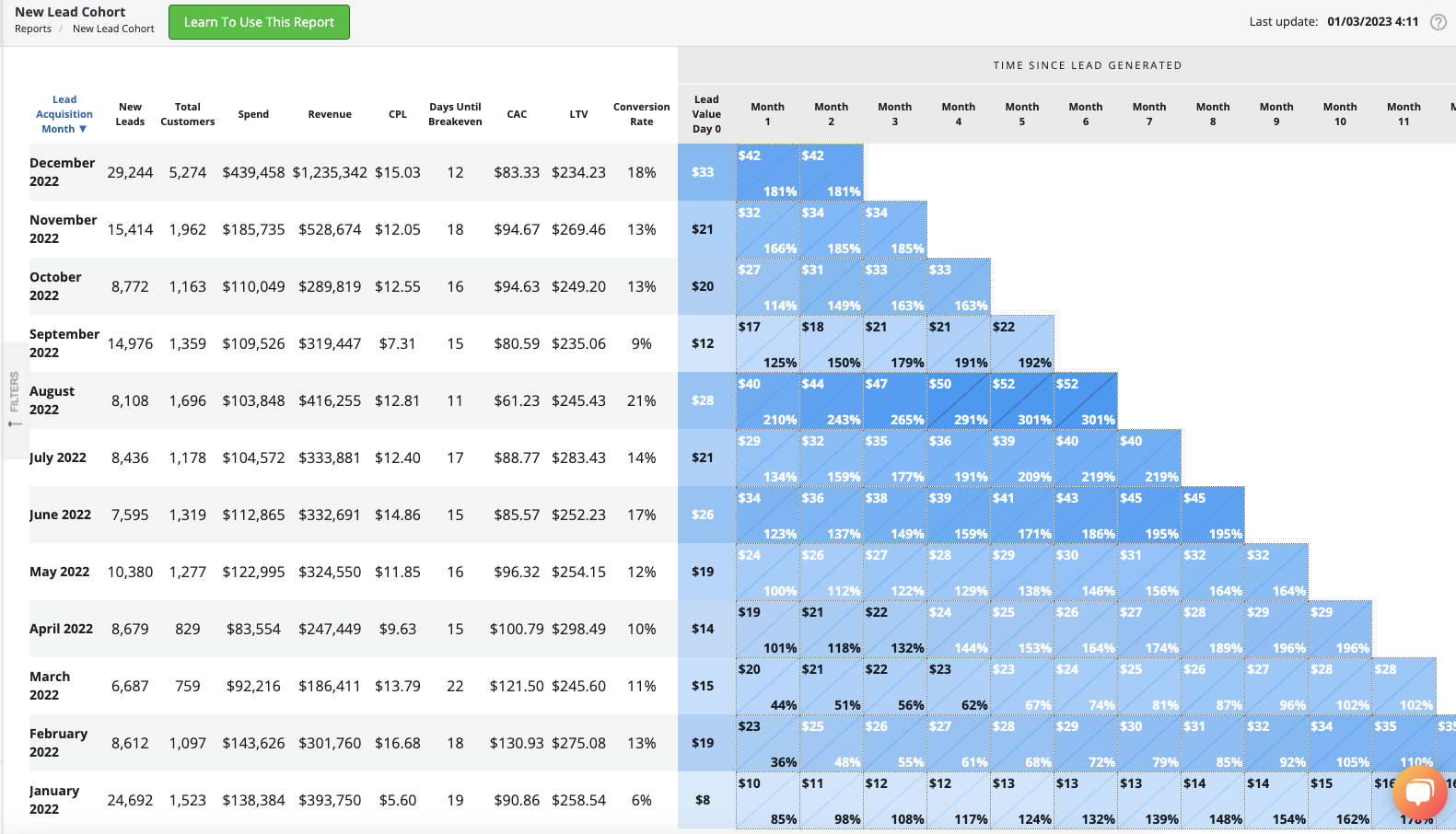 Tracking Effectiveness
Every platform claims it is easy to set up, but there are times when tracking needs debugged and verified.

Wicked Reports allows you to always know if you're tracking correctly with real-time tracking tests and tracking performance data.


✗

Hyros does not appear to report on unattributed revenue. Hyros claims to use AI to track people but also has admitted this is a marketing statement more than a factual statement.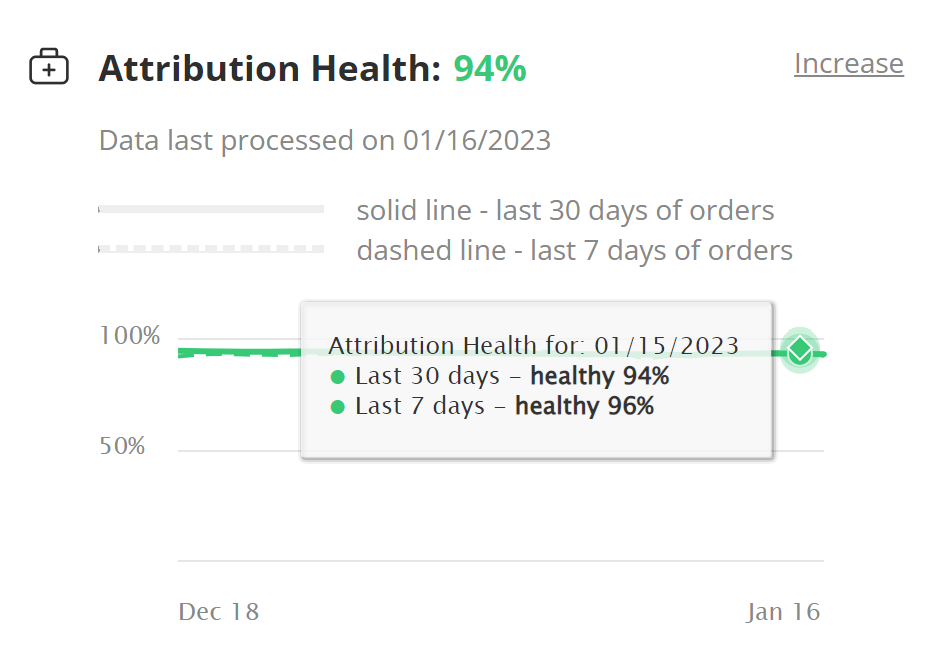 Ad Creative Reporting
Wicked Reports shows reporting on ad creative performance on any attribution model across the entire marketing funnel.


✗

Hyros offers basic ad level reporting.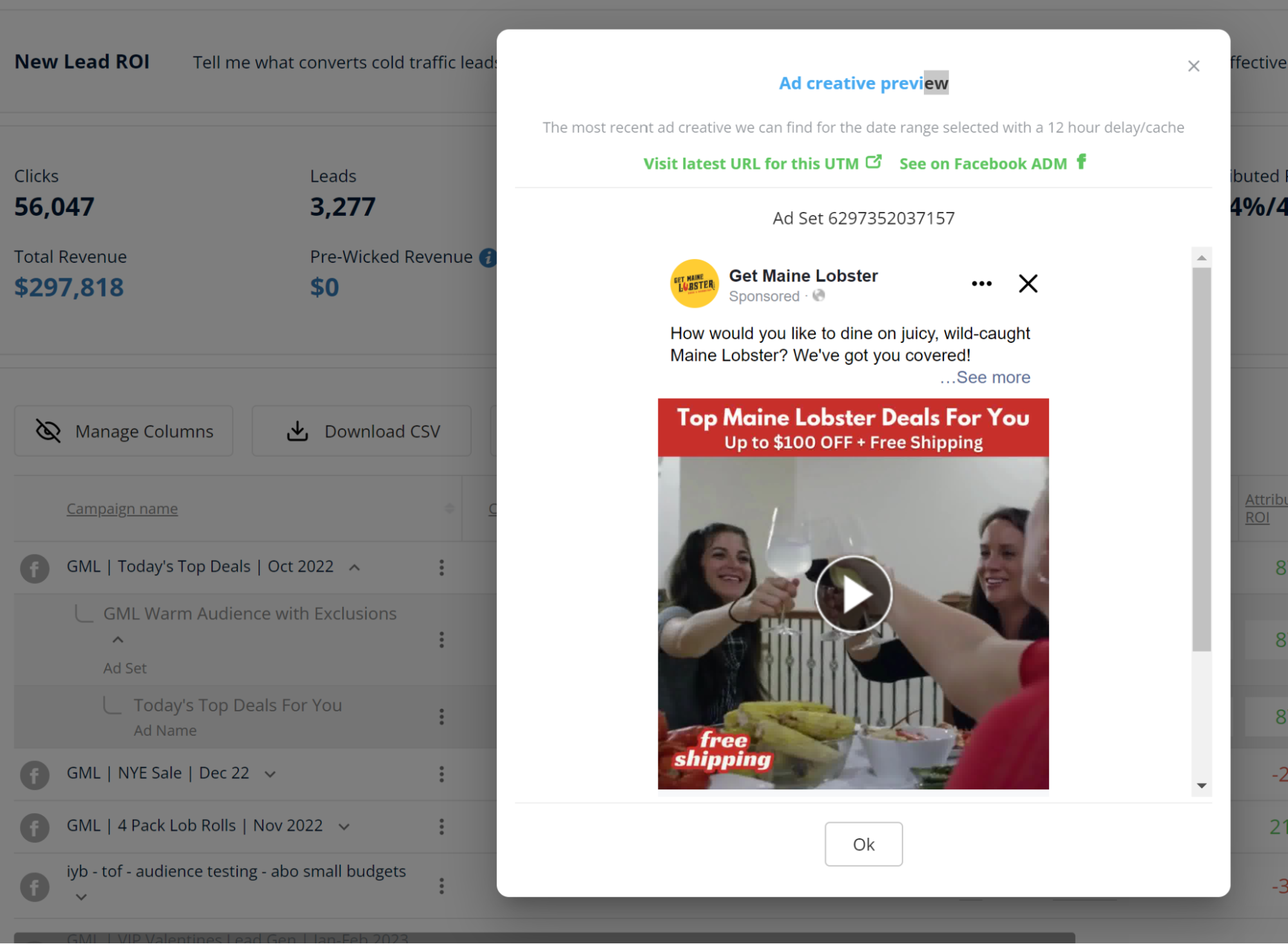 View-Through Conversion Tracking
No matter where you're at on measuring the effectiveness of Facebook's view through conversion data, Wicked gives you the option to customize it in real time.

Use this to measure campaigns that seem to produce sales for your lower consideration product via BOF videos



✗

Hyros does not offer view-through conversion tracking.


Data & Refresh Availability
✔
Wicked Reports
Live Data - 20 min & 24 hour refresh
✗
Hyros
About every 30 minutes


Email & SMS Tracking
✔
Wicked Reports
Auto tracking for most popular email apps, no need for UTMs
✗
Hyros
Only supports a specific UTM format for email UTMs, so you must manually update links


Integrations
✔
Wicked Reports
Quick integration with all major CRMs and Shopping carts, plus inbound API for CRM/Cart conversions
✗
Hyros
Very limited native integrations


Custom Conversions
✔
Wicked Reports
Automatic detection and attribution for new lead and re-engaged lead conversions; clearly defined custom conversions for customer journey
✗
Hyros
Call tracking events, webinar registration tracking


Organic Traffic Tracking
✔
Wicked Reports
Organic revenue attribution to the landing page of lead visit
✗
Hyros
The only organic tracking is accomplished using UTMs specifically designed for organic


Conversion API
✔
Wicked Reports
Google offline conversion and future revenue matched to GCLIDS
✗
Hyros
None offered


Scheduled Email reports
✔
Wicked Reports
Unlimited reports emailed to you
✗
Hyros
None offered


Experience & Support
✔
Wicked Reports
Expertise from Data Scientists, Live Chat, Live Zooms, and dedicated Slack channels for agencies
✗
Hyros
Dedicated rep and Facebook group


Profit calculations beyond ad spend
✔
Wicked Reports
Map COGS, Shipping, and Variable expenses to an OrderID for profit reporting on Ad Spend for all order integrations.
✗
Hyros
COG and shipping costs for Shopify stores only


In-App guidance
✔
Wicked Reports
Insights right inside your account so you can turn data into action
✗
Hyros
No in-app guidance but offers video-training


Unlimited users
✔
Wicked Reports
Get a seat for everyone who needs it
✗
Hyros
Limited seating, pay extra for each user


PRICING
✔
Wicked Reports
Pricing based on number of CRM contacts, Special discounts for agencies with 3+ clients
✗
Hyros
Hyros pricing based on store revenue offers "your ads scale or it is free"