Wicked Reports already had the fastest, simplest on-ramp to marketing metrics in the business. But that wasn't good enough for us.

You see, we think that setting up a marketing metrics system shouldn't be so complex it consumes your job or your life. After all, you don't want to spend your days performing tedious, repetitive tasks.
Plus, we know you don't have months or even weeks to get a huge, complex system up and running. And your budget might not stretch to hire a consultant.
You also shouldn't have to wait a long time for results you can act on. You have a business to run. That means the faster you can get started understanding what marketing programs work and which ones don't deliver results, the better.
New WickedFast Setup
That's why we rolled out our new WickedFast™ setup process. The WickedFast process makes it not just faster, but even easier to get up and running with accurate, actionable metrics on your marketing programs.
How can Wicked Reports do this when other companies take weeks or even months to ramp up? That's where our patent-pending technology comes in. (BTW: That patent is also why no other company can match the WickedFast process.)

The WickedFast Steps
WickedFast setup takes you through a series of defined steps, some of which can be completed in minutes. To help you go through these steps with confidence, we have given each one a video that explains precisely what to do. Just in case you have questions, Wicked Reports customers also get access to The Wicked Academy, which contains a Quickstart Guide with answers to frequently asked questions.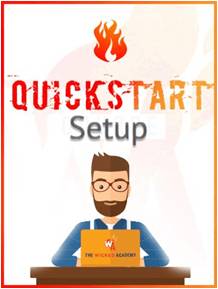 The WickedFast setup process's steps take you through:
Authorizing sources
Authorizing accounts
Setting up tracking
Deploying tracking codes
Encodiing automated emails
The final one is to schedule a Setup Audio Call with the Wicked Reports support team to make sure every step has been completed properly and there are no problems. This is important because you will not have access to your reports until you have completed the WickedFast process successfully.
"Oh, Wow" – No Hype
WickedFast can take you from zero to "Oh, wow!" in just an hour or two. Some customers have completed the process in 10 minutes. Really. You'll be seeing actionable data and drill-down details before the end of the day.
WickedFast setup gets you started that quickly. No hype. Plus, we offer a variety of support options to make the process even faster and smoother.
Marketers who haven't begun tracking their program metrics because getting started just seems too complex and time consuming now have an alternative in WickedFast setup.
The best way to show you how the WickedFast setup process works is to talk with one of our Wicked Reports experts. Schedule a live demo and you'll be on your way before you know it!