Wicked Reports has added three major marketing platforms to its list of data sources. While each company in the Wicked reports ecosystem has its own focus and area of specialization, pulling their data into one marketing metrics system increases the power and accuracy of your marketing analysis. By expanding for measuring and analyzing the ROI of marketing programs Wicked Reports helps you to focus resources on the programs that deliver real value while de-emphasizing others.
Drip Marketing Automation Platform

Wicked Reports now pulls in contact data from the Drip marketing automation platform. Drip is email marketing and automation software for online businesses that is, "ideal for individuals and companies that sell software, ebooks, courses, and consulting services."
If you use Drip to store your contacts and for your marketing automation, you must give Wicked Reports a way to also see revenue and determine ROI. That means you must also use a source of order data such as Stripe or the Wicked Reports Order API to get the full benefit of Wicked Reports analysis.
You can authorize the integration with Drip through either the Wicked Reports wizard or the Authorizations dashboard with only a few clicks. Depending on the size of your Drip contact database, it can take between 10 minutes and a few hours for Wicked Reports to pull in all the data. We notify you when the process is complete. The Wicked Reports KnowledgeBase gives customers clear, annotated directions for this simple process.
Click Funnels – Actionetics Marketing Integration Platform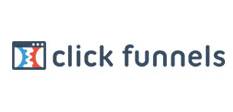 Wicked Reports integrates with the Actionetics marketing integration platform from Click Funnels, the builder of drag-and-drop sales funnels. Click Funnels helps companies to build sales funnels of all kinds, including webinar, membership, email, sales and opt-in funnels.
Actionetics is a tool that lets Click Funnels learn about the visitors to your website, and then create marketing sequences and communicate to them based on who they are!
Setting up Actionetics to work with Wicked Reports requires two tasks.
Export all of your contacts from Actionetics in a CSV file and send them to us so we can import them into Wicked Reports.
Integrate all of your funnels inside Click Funnels with Wicked Reports using Webhooks.
Setting up your funnels to work with Wicked Reports adds contacts to Wicked Reports automatically. Repeat the funnel setup/integration process for each funnel you have in Click Funnels, but send us just one contact CSV file.
The Wicked Reports KnowledgeBase shows annotated directions that walk customers through this process. A video also demonstrates how to add Wicked Reports tracking code to Click Funnels.
Wicked Reports customers gain immediate access to the KnowledgeBase of help documents and tutorials. We support you at every step.