Subscriptions
Get insight into the lifetime value of your customers and make informed marketing decisions with Wicked Reports.
Wicked Reports helps your business identify the leads that become high-value recurring subscription customers over time.
Get Reliable Sales Conversion Data You Can Trust
Wicked Reports shows sales, conversion, and attribution data for all your marketing clicks across the entire buyer journey - even if that journey takes place in your recurring subscription payment system.
Here's how Wicked Reports can help you grow your subscription business with data you can act on.
Tie revenue to your campaigns
Tracking pixels struggle to account for recurring revenue, which means you only get half the picture of how your campaigns actually perform.
Wicked Reports ties all recurring subscription revenue to your marketing clicks, giving you the true value of your customers over time. Understand your customer lifetime value
Wicked Reports allows you to track the entire subscription journey so you can measure the true ROI of your marketing campaigns.
Seeing the lifetime value of your customers takes the guesswork out of deciding where to allocate your ad and marketing budget. Identify your most profitable customers
Without data that shows your user's lifetime value, you can't accurately determine the ROI of your advertising or lead generation campaigns.
You can't make key marketing decisions for your subscription business with confidence.
Wicked Reports gives you a complete understanding of your user's lifetime value so you can scale the campaigns that drive your highest-value subscribers.
How you can grow your subscription business with Wicked Reports: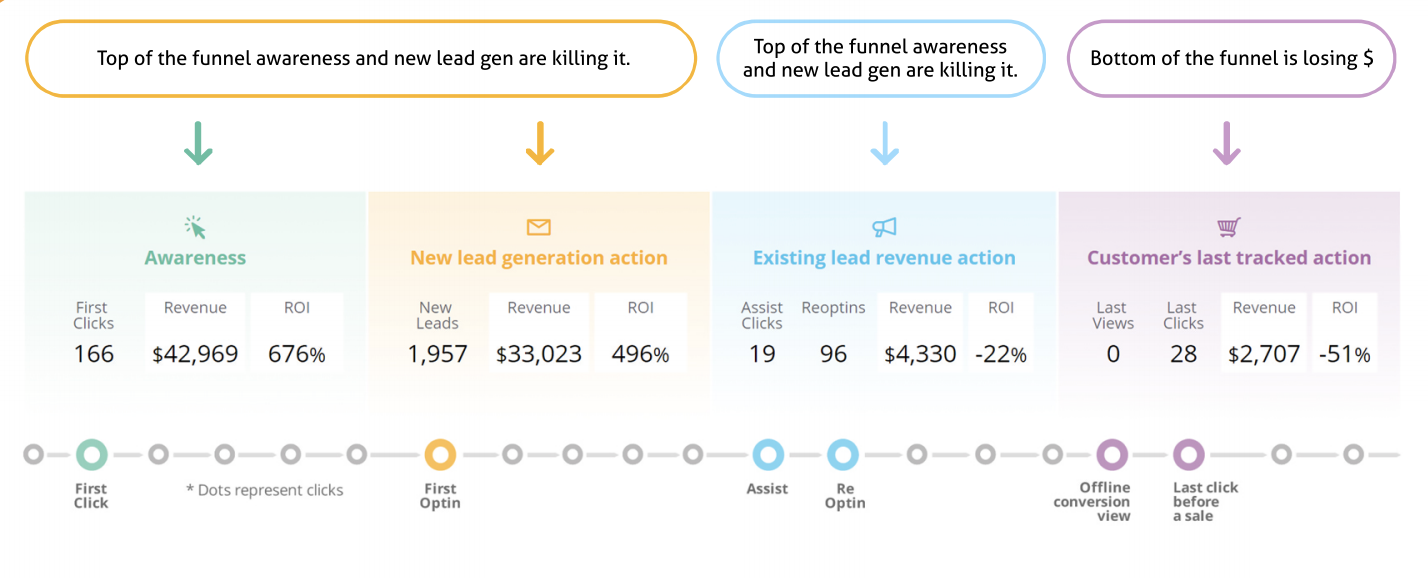 Tie all recurring revenue from your clicks to your shopping cart.

Identify which of your discounts or product trials lead to more subscriptions.

Test marketing messages across different channels and get accurate conversion data.

Apply what you learn about your high-value subscription customers to future prospects.

See the long-term value of your ads and outbid your competitors with confidence.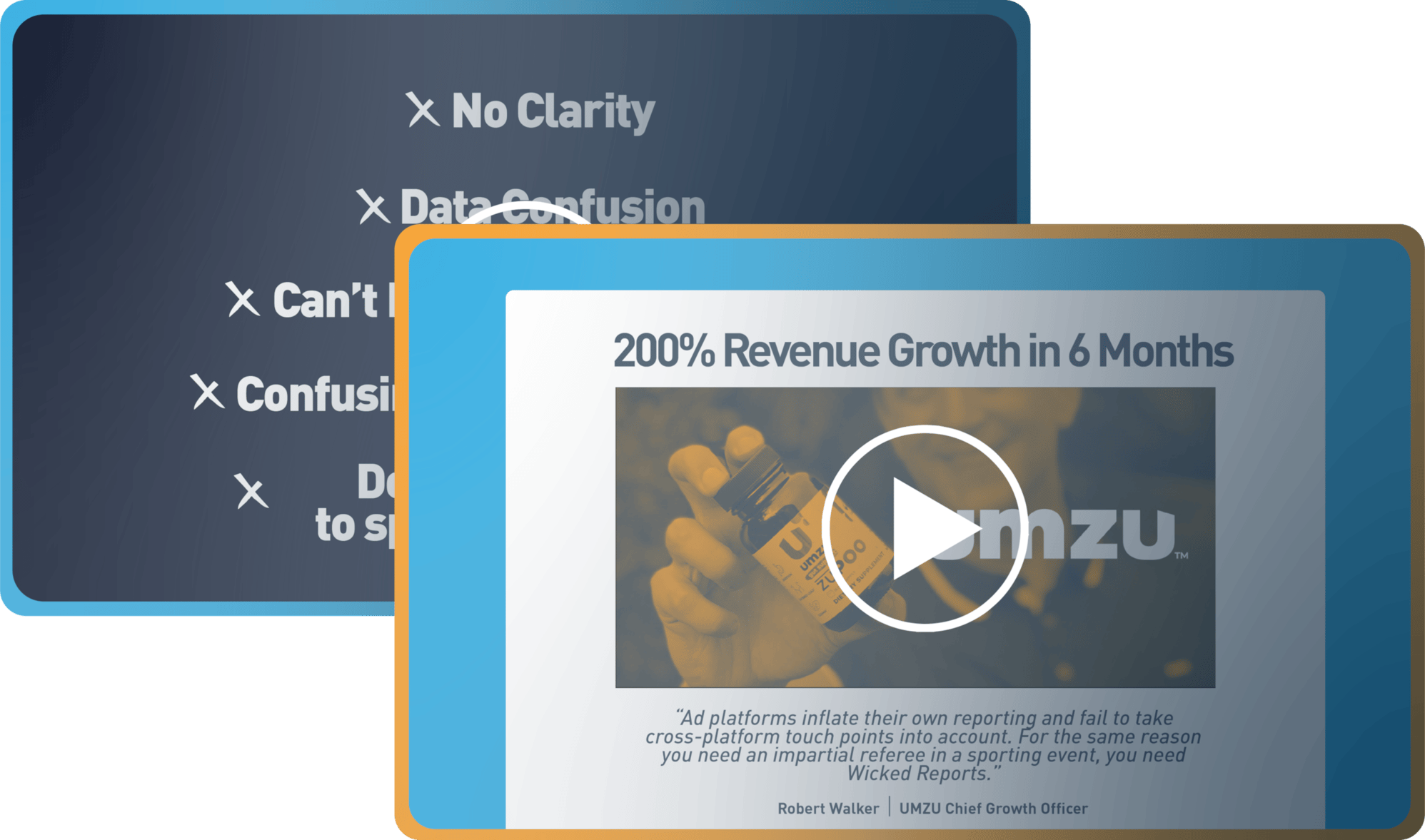 Subscription Business FAQ
What are attribution models?

Attribution models are used to attribute sales to various touchpoints in the customer journey.

It can help your business understand which parts of your marketing funnel are driving profitable leads.

What's the importance of attributing recurring revenue?

Attributing recurring revenue is important because it allows you to see the long-term value of your marketing efforts over time.

Conversion tracking pixels can't tie repeat purchases back to a lead generation campaign, so you can't accurately determine where your best leads are coming from.

Does Wicked Reports track multi-channel marketing campaigns?

Multi-channel marketing involves running multiple campaigns on channels like email, Google, and Facebook to reach prospects.

Wicked Reports tracks multi-channel marketing campaigns and detects 1st party conversions automatically, allowing you to measure the true ROI of your efforts.
What is customer lifetime value?

Customer lifetime value is a metric that measures the total amount of money a customer will spend on a business.

It can help your business determine how much to invest to acquire new customers and retain existing ones.

What are conversion tracking pixels?

Conversion tracking pixels are snippets of code that allow you to track website traffic and conversions.

They can help your business measure the effectiveness of your marketing campaigns and make better decisions about your ad spend.

What if I change my subscription business' pricing?

Wicked is tied directly to your subscription billing system, so we use real conversion values. You can test as many price points as you'd like - Wicked is there to detect the real value.

Get answers with Wicked Reports by testing different pricing strategies and measuring the results.
Wicked Reports is for your subscription business if…
You're growing a subscription business, but struggling to scale your marketing due to inaccurate or conflicting analytics.
You can't determine which of your campaigns are generating the best ROI over a subscriber's lifetime.
You want to connect the right offers to the right audience based on the maximum customer lifetime value versus the cost to acquire those customers.
You're worried your subscription business is missing growth opportunities because of inaccurate sales and customer data.
You're frustrated with trying to manually figure out the true value of your lead generation campaigns over time.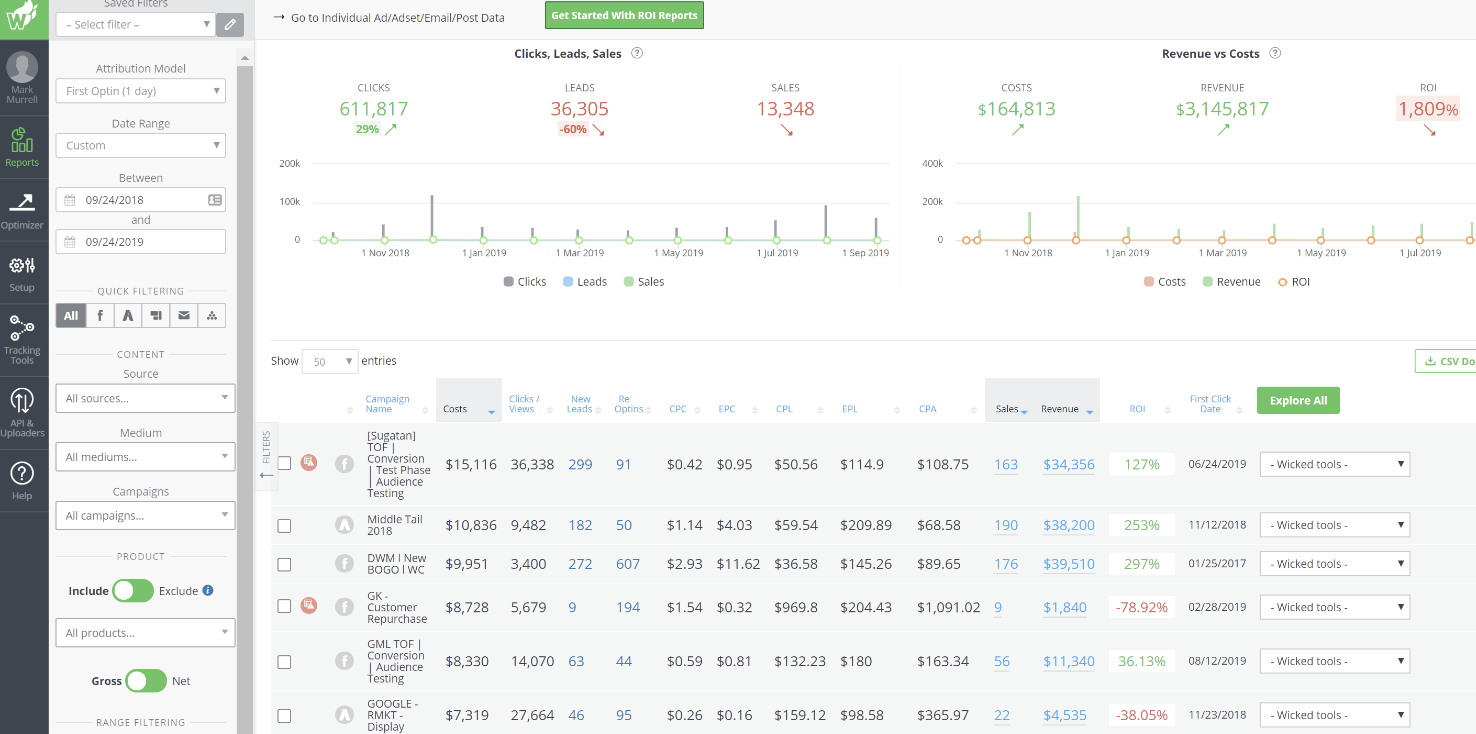 Ultimately, Wicked Reports is for you if you want intelligent analytics that can tie recurring revenue to your marketing campaigns and help you capture more valuable customers for your subscription business.