maximize roas

without guesswork

Powerful multi-touch marketing attribution software that gives you clear, actionable data tied to all marketing efforts. See where your best customers came from and find more.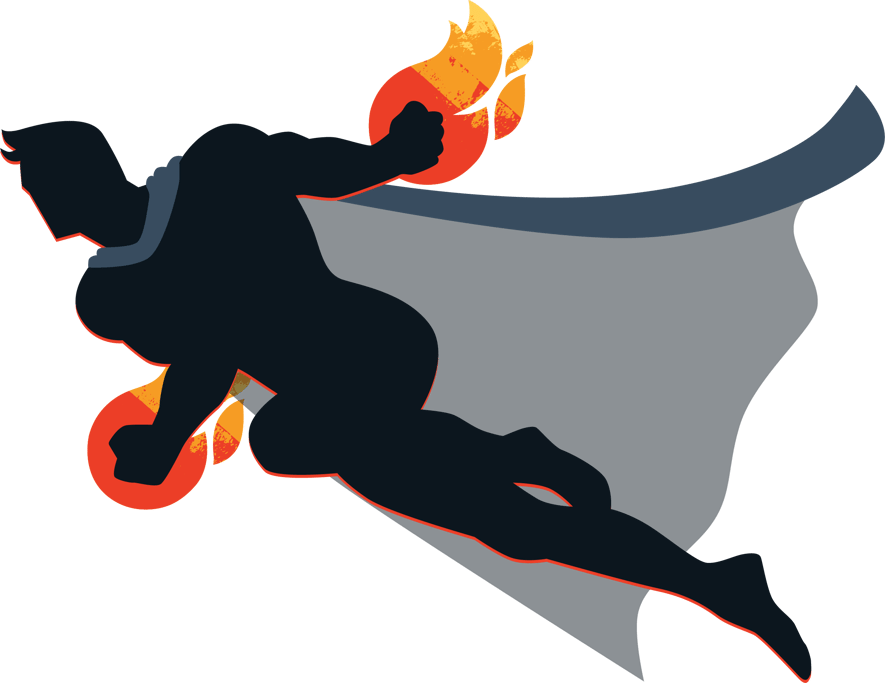 A SINGLE SOURCE OF TRUTH
ALL YOUR MARKETING DATA FROM ALL CHANNELS,

ALL IN ONE PLACE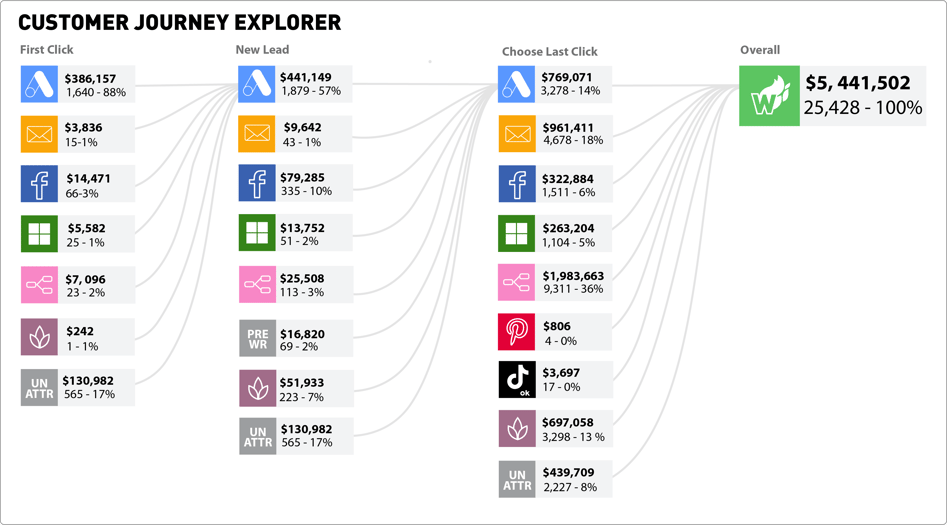 "Nothing is more important than knowing which marketing vehicles are working and which aren't."
Chuckie Gregory


"I now have a compass that has enabled me to discover spend amounts for max ROI and profit."
Mark Murrell


"Having an attribution model [from Wicked Reports] that is directly tied to Shopify is crucial."
Robert Walker

ADD INSIGHTS TO YOUR MARKETING
PERFORMANCE DATA TO INCREASE ROI

Wicked Reports provides unlimited attribution time windows and attribution models optimized for Ecommerce paid media in a post IOS14 world. Move your ad spend optimization to reality-based decision making using real ad spend, conversions, and customer lifetime value. So you can stop wasting money on ad spend that doesn't convert, and scale your ad spend where it is converting. RECONCILE REVENUE TO KLAVIYO EMAIL
PROFILES & SHOPIFY REVENUE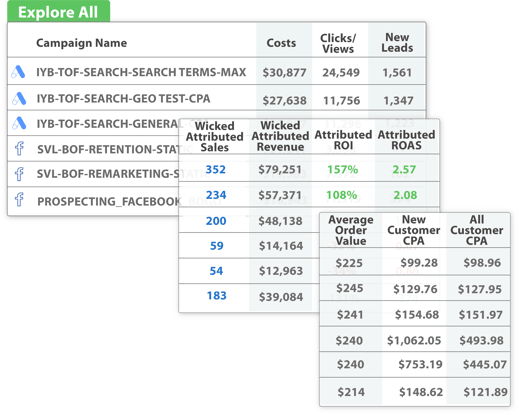 Accurate multi-touch revenue attribution is difficult when you're not an expert
Ad level tracking for top, middle and bottom of funnel conversions from Klaviyo optin conversions and Shopify or ReCharge revenue

Continuous update of revenue and ROI when shopify & ReCharge sales occur and recur
ATTRIBUTION TIME WINDOWS THAT UNDERSTAND COLD TRAFFIC CONVERSION TIME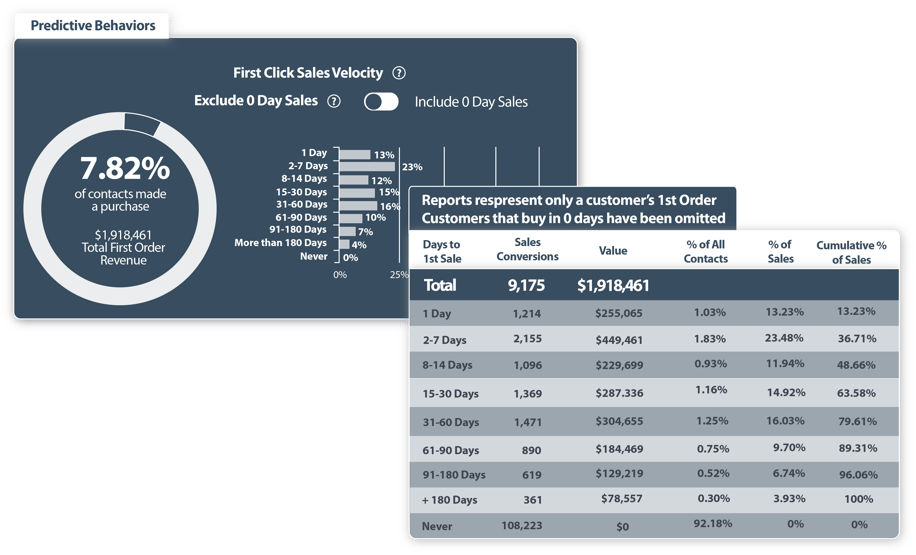 Cold traffic takes time to convert
Facebook, Google, and Microsoft Ad Platforms don't understand, attribute, or report on cold traffic ROI/ROAS correctly for ecommerce brands

Ad platforms merge cold and warm traffic together in their results - this leads to major challenges finding new eyeballs for your brand.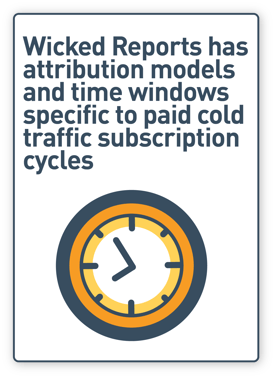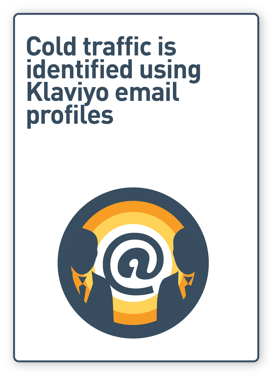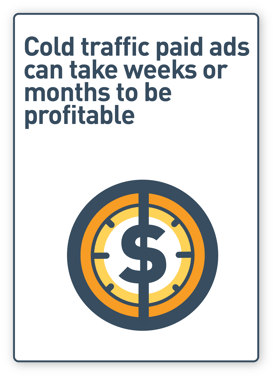 SICK OF
SPREADSHEET HELL?
You can't find clarity to optimize your ad spend without accurate data

Easy, 1-minute integrations

Connect Ad Spend ROI to Actual Shopify Revenue & Sales

Detects cold vs. warm traffic from Klaviyo

Sorts new vs. repeat subscriptions from ReCharge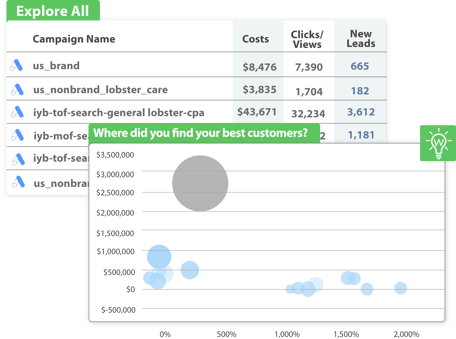 OPTIMIZE WITH CONFIDENCE
Clarity into winning and losing channels

✔ Verify and act on your actual Shopify + Klaviyo conversions
✔ Attribution models that support all parts of the funnel
✔ Wicked Insights for analyzing ad spend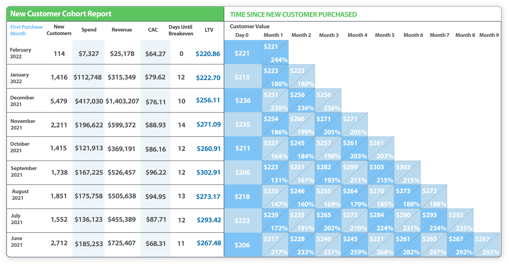 CUSTOMER LTV INSIGHTS
Attribution reporting built on your best customers

✔ See impact of delayed subscription recurring revenue
✔ Find most and least profitable months
✔ Leverage LTV in your customer acquisition strategy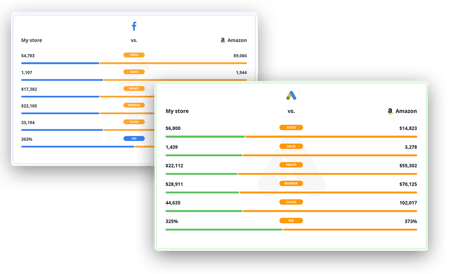 WICKED TRACKS AMAZON SALES
Amazon Attribution from Facebook, Google, Email, and SMS

✔ Ad spend ROI vs. Amazon Sales
✔ One-click tracking of paid Amazon traffic
✔ Amazon vs. Shopify sales and revenue
ADVANCED ATTRIBUTION EXPERTISE
OUR ENTIRE CSM TEAM IS

COMMITTED TO YOUR SUCCESS
✔ 24/5 Live Chat Support
✔ Dedicated CSM
✔ Guided Wicked Reports Setup
✔ Live Zoom Consulting
✔ Wicked Insights and Playbooks